40 Fingernails and 40 Toenails
Hello again little blog! It's been just about a year since we last wrote. What a year it has been, filled with many ups and downs. It is our intention to return more diligently to this space, as a way to continue to update our family and friends, and to continue to document our family life for us to look back on in the years to come. Recently, Seth has enjoyed hearing past blog entries read to him about when he was younger, and we look forward to sharing memories in this way with all our children. Jason has also been working away at organizing our pictures, and he has just posted the pictures from 2013 up through mid-May on our photo gallery site. Here's a recent shot of the whole family: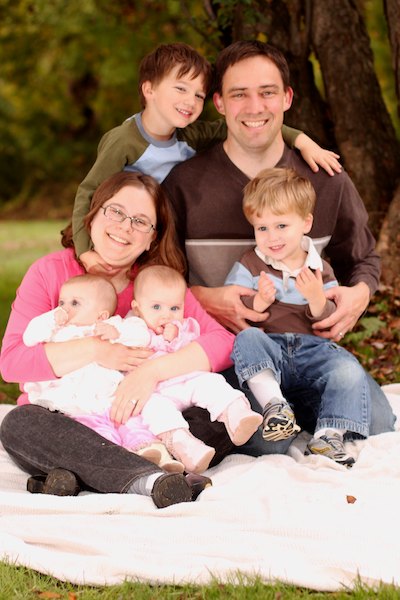 A new name for our blog has been floating around in my head over the past few months. Most of you know by now that I gave birth to identical twin girls Nora and Maya on May 13, 2013. We went from a two-child to a four-child family overnight. We could not be any more blessed as parents. Four children seems perfect to us - two boys, two girls - everyone has a buddy. As we now switch from the season of our lives when we were creating our family to the season when we will be raising our family, I have been thinking about what a joy and a responsibility it is to be the caretakers of young children. 40 fingernails and 40 toenails - this concept is often swirling through my consciousness. That's how many fingernails and toenails we are in charge of maintaining (not to mention our own!). This seems like a good metaphor for child-rearing in general. We need to make sure we keep track of when all the nails need trimming - when they are just fine the way they are, when they are getting too sharp, when there might be a snag, when our intervention is necessary. How satisfying it feels when all 80 nails get trimmed at the same time! But often times, we trim some nails some days, some nails on other days. Sometimes the nails get trimmed willingly, sometimes with much resistance. But at the end of every evening, the owners of all of these nails are tucked snugly in their beds, resting up for another day.
We hope you will continue to read along as we try to document our family activities on a (hopefully) more regular basis. We'll fill in some of the gaps from last year, and continue to update about current happenings as well. And if you come to visit, we promise we won't trim your nails. Our 40 fingernails and 40 toenails are all the nails we need to be in charge of!