October Adventures - Fall Fun with the Healy Boys
We've had a nice three weeks since we last updated our general goings-on. Enjoying the fall - my favorite season! We finished up the High Holidays by celebrating Yom Kippur at our synagogue. We brought the boys to the last service of the weekend so that Seth could hear the shofar being blown - the traditional ending to the High Holiday period. Geema gave him a shofar at Rosh Hashanah, and our rabbi was hosting a shofar brigade, where everyone could blow their shofars at once. Seth got to be part of a little parade and stand up at the front (with Daddy) and "blow" his shofar. He was so cute and excited to be part of the ritual, and he was also in awe at the loud noises coming from all the other shofars.
I've been hosting some Mommy/Baby playdates with some of the mothers on campus on my Monday mornings off, so that has been fun. Evan is the oldest baby in the group by about 7 months, so the other babies sleep or lay on a blanket, and Evan tries to crawl over to them and explore. Very cute.
Poor Seth came down with strep throat a couple weeks ago - he had a cough that we got checked out (assuming it was allergies), but his strep culture came back positive, so it was onto antibiotics he went. He's been a trooper about it, talking about when his cough will "blow away."
We documented our rainy hayride at the farm in the last blog entry - who could forget that! We had been planning to put up the Sukkah with the Jewish Organization at the Academy, but unfortunately had to cancel the event due to all the rainy weather.
We had a fun visit last weekend to Framingham for baby Nina's baptism! It was a big day for the boys, and they did a good job with all the activities. It was a beautiful ceremony at a beautiful church, and it was wonderful to be part of Nina's special day. We got to see lots of family - cousin Lindsay, Jeremy, Lila, and Nina, Grandpa, Grandma, Aunt Sandi and Tom, Uncle Rick and Mary, cousin Zack, and of course Nana! It was wonderful to be together with the family, and have all the little cousins together. Everyone was remarking about how much Evan looks like Uncle Brian did as a baby. We still think of him as a little baldie compared to Seth, but he does have a close cropped head of fair hair - so sweet. It was a great day - Grandma and Grandpa were excited to spend time with the boys and see their new tricks, and Nana is always so full of energy! We wished Grandma a happy birthday, too!
This past weekend was a perfect new England fall weekend. On Saturday, we went to a pumpkin decorating party with some families from campus. Seth had a blast, though he spent most of his time riding on the kiddie digger in the driveway. But he did eventually decorate a pumpkin with pom-poms, feathers, and stickers (no carving - the host organized a toddler-safe event!), and we made one for Evan. Then that evening, we went with Seth's friend Elizabeth and her family to a Spooky Safari at the Forest Park Zoo in Springfield, MA. It was perfect for three year olds - decorations, a spooky barn, people giving out candy, a tent with games and slimy "eyeballs" to feel. Seth learned a new song - the Monster Mash. I'm sure he'll have the lyrics memorized by next week. Seth was so excited to wear his Buddy the T-Rex costume from Dinosaur Train, as this was his costume decision after MUCH deliberation. To follow suit, Evan is also a little dino. Seth was making up funny songs about spooky safaris as we walked along (a trait I hear he learned from me in my toddler days) and learned about the fun of glow sticks.
On Sunday, we spent a fun morning romping in the leaves. It was Evan's first time in the leaves, and Seth had a blast introducing him to throwing leaves and jumping in piles of leaves: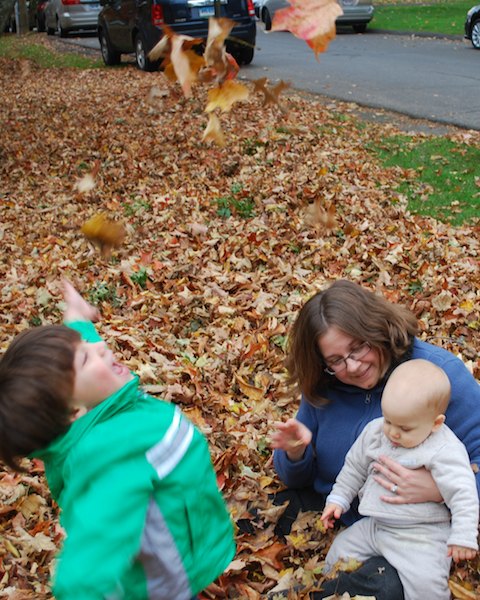 Yesterday, Seth got to wear his Halloween costume to gymnastics, too - it was so cute to see his little tail bouncing up and down on the trampoline. Can't wait for more fun next weekend with Halloween.